Kayakrental in our beautiful Archipelago
One hour south from Stockholm, 20 min from Stockholm Skavsta Airport.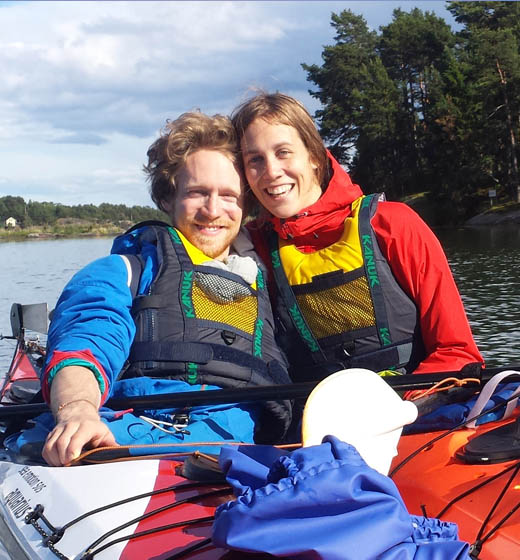 Rent a Kayak!
In our peaceful archipelago you can relax and feel safe. We are happy to give you advise where to go.
This is how it works
We help you to choose a kayak and suitable equipment.After a short safety brief we help you into the water. Our doublekayaks are really safe if you feel insecure.
This is included!
Basic kayak technique and short safety brief. Basic kayakgear incl. life jacket, spraydeck, paddle a local map.
Price from 160 Sek
SUP
Stand up paddling is the worlds fastest growingwatersport. Many are drawn to the fact that it gives a great workout out on the water in a beautiful surrounding. On the board you work with the whole body and get both better balance and core training.
Why paddle SUP 
– It's easy to learn, then of you go.
– Extremly good training: Strenght, endurance and balance.
– Both fun and social in our bautiful archipelago.
Easy to get going
After a short techniq and safety brief you are ready to go straight out from the beach
.
Price for 1 Hour 160 Sek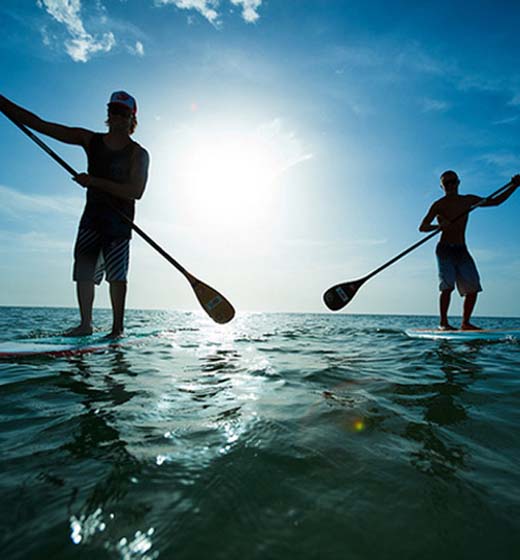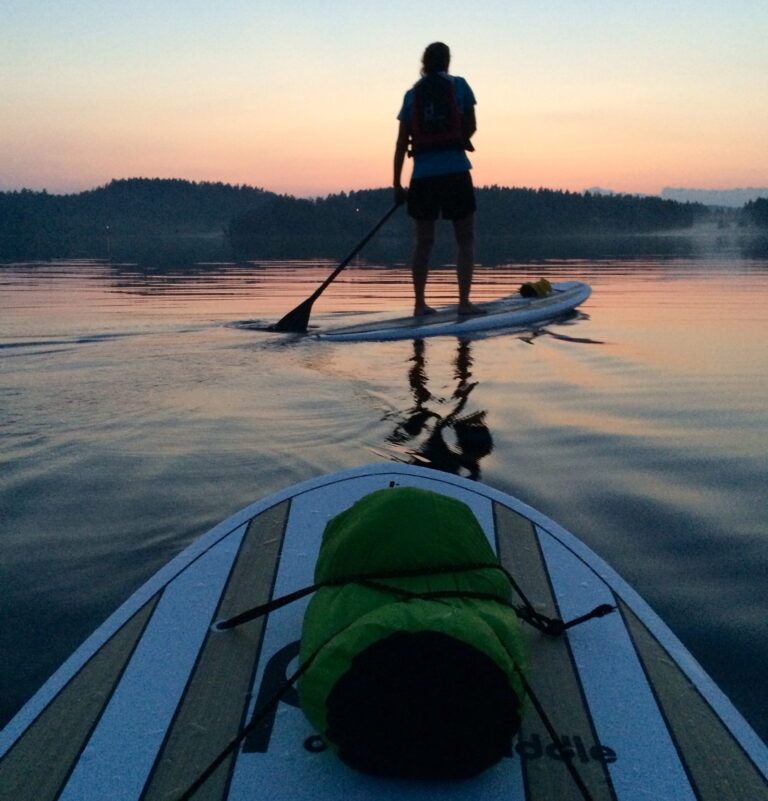 K1/SUP              K2/K3
1 Hour                  160 Sek            250 Sek
2 Hours               230 
Sek
            330 
Sek
4 
Hours
               350 
Sek
            450 
Sek
8 
Hours
               500 
Sek
            600 
Sek
24 Hours             600 
Sek
            700 
Sek
Extra Day            250 
Sek
            350 
Sek
Weekend            850 
Sek
           1050 
Sek
1 Week                2150 
Sek 
          2550 
Sek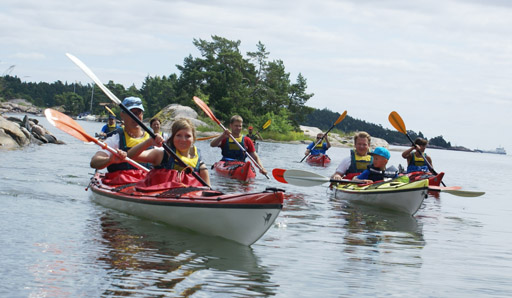 Gear that's included in the price: Life jacket, spraydeck, paddle and a local map as well as equipment to get water out of the kayak if necessary.
When you book it's possible to add drybags for your cellphone and gear as well as strings for your glasses, campinggear and gas. 
Where to go?
In our peaceful archipelago you can relax and feel safe. We are happy to give you advise where to go. Below  is some route suggestions.
Or we can provide a guide.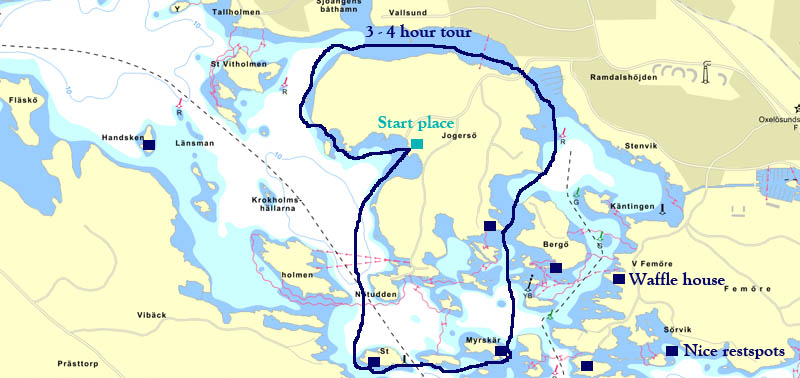 Half day tour suggestions.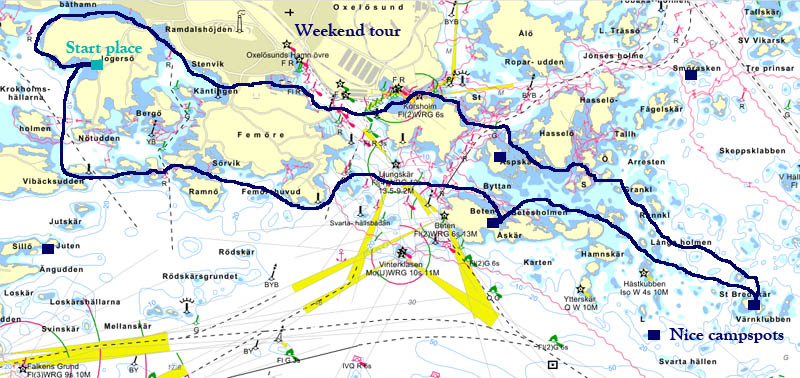 Overnight tour suggestions.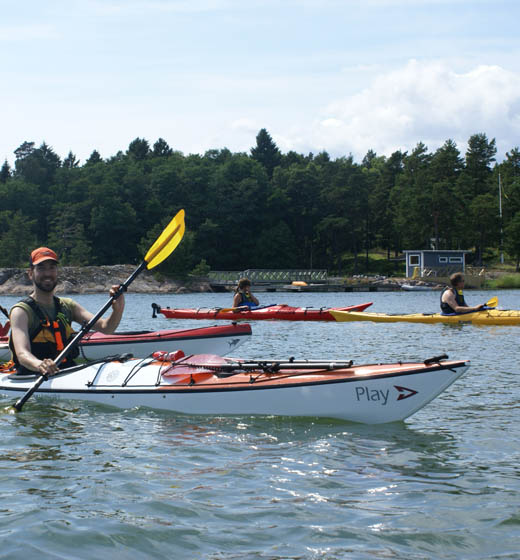 Tours
Let us take you on a guided tour where we take you to our favorite places in a safe way. We have a couple of planned tours or you can book your own guided tour. 
Prices from 550 Sek/person
Courses
During the summer we also offer a couple of courses where we teach you technique and safety. Such a course can also be arranged for your group.
Prices from 1050 Sek/person
This is included!
Kayak or SUP guide and fully equiped SUPboards or kayaks incl. life jacket, spraydeck, paddle etc.

 
Campoffer for 2!
In our peaceful archipelago you can often find your own beautiful Island where you can make your camp. Please be respectful to other people and the nature.
Add more people or a guide!
In our booking system it's easy to rent the gear for a longer time, or to add more people. 

 You can also 

add a guide for the first hour to

 give you tips and increase the safety.
This is how it works
First you book single or double kayaks for your desired duration. Then you add the camping equipment according to your needs. A weekend in a double kayak including all camping gear for two persons costs 2000 Sek.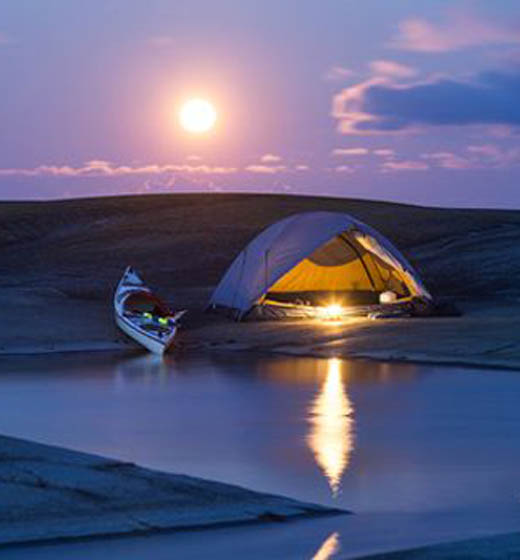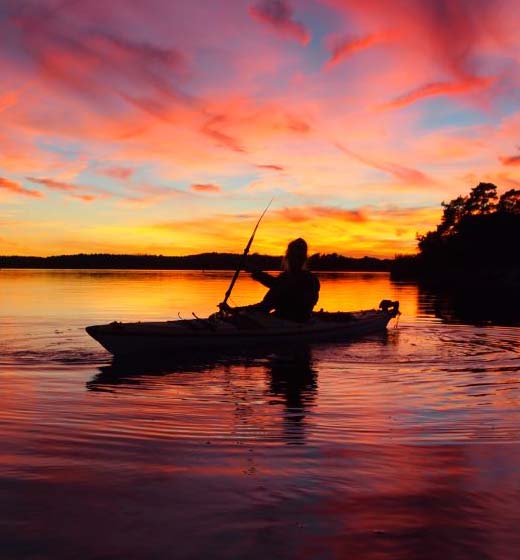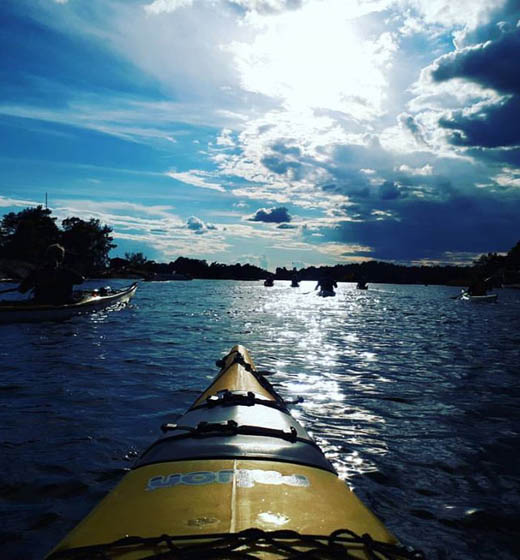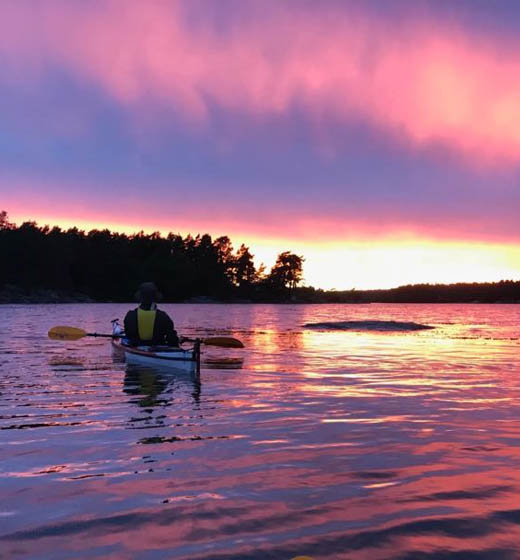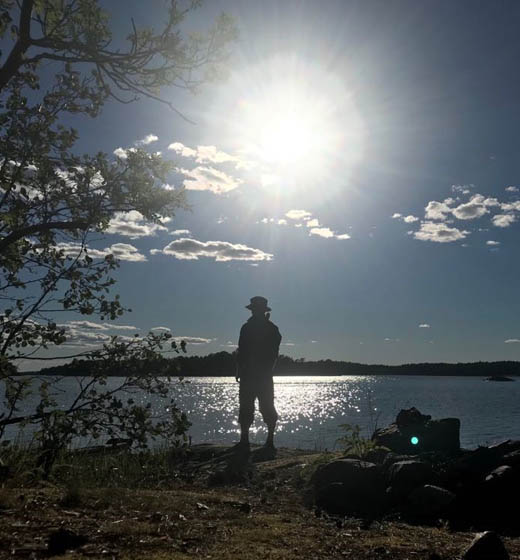 Highway to the Archipelago!
It's easy to get to us with car or by Ryanair. We are located one hour south from Stockholm by car. From Stockholm Skavsta airport you reach us in about 20 min.
How to get to us!
Visiting adress: GPS coordinates
Jogersövägen        N 58°39'55.7"
613 51 Oxelösund     E 17°03'10.8"
With Car: From E4 Nyköping to Oxelösund. Follow the highway to the exit: Ramdalen. Follow the signs to Jogersö Havsbad. Walk to the water from the parkinglot.
By Ryanair: To Stockholm skavsta airport and take a Taxi from there or take a Bus to Nyköping Busstation and then follow the instructions bellow.
With Bus: 715 from Nyköpings Busstation to Jogersövägen. Walk to the beach, 1,6 km.
Turisttaxi: from Oxelösundscentrum
to Jogersö 30 Sek/person. Call: +4615 521 7500
We know kayaking
We have existed since 2007 and have created lots of courses, tours and events. When you come to us we will help you to choose a suitable kayak, adjust footrests etc. Please contact us in advance since we are often out on tours, at +4670-644 9776 or info@kajakochfritid.se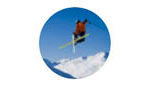 Perfect service!!
Me and my girlfriend rented a kayak from Martin for 4 days including complete camping equipment. It was just perfect! The equipment was in perfect shape and Martin helped us plan our trip through the Archipelago. Couldn't have been a better trip!  … read more
Fritz 2018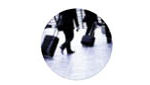 Great service in a wounderful location
11 of us recently visited the stunning area surrounding Oxelösund and Jogersö, spending four days and nights kayaking and wild camping on the islands. Finding Martin and Kajak och Fritid made the whole trip super easy to organise. He was a great help during planning, … read more
Jamsaw 2018
Great Experience
Kajak och Fritid is the perfect institution to start your kajak-trip in Sweden. You are not only provided with all the equipment you need (kajak, tent, kitchen etc) but you also get to know a very kind and generous owner: Martin. I can fully recommend this place… read more
Alexander 2016

Martin has run Kajak och Fritid since 2007 and still enjoy kayaking and be out on the water. "I love to see all the joy it brings to all our visitors, there is so many people coming back telling me of their wounderful experiences". 
Besides being a kayakguide, he is a Kundaliniyoga teacher, Gongmaster, first aid, CPR and tennis instructor. He has degree as a Math and Sience teacher with a master in Environmental Outdoor Education.
Opening hours:
Please contact us in advance, we are open after agreement. Sunny summer days and weekends we are almost always open from 11-19.
Kajak och Fritid i Oxelösund AB

Org nr: 556249-7882
Phone: +4670-644 9776
Mail: info@kajakochfritid.se